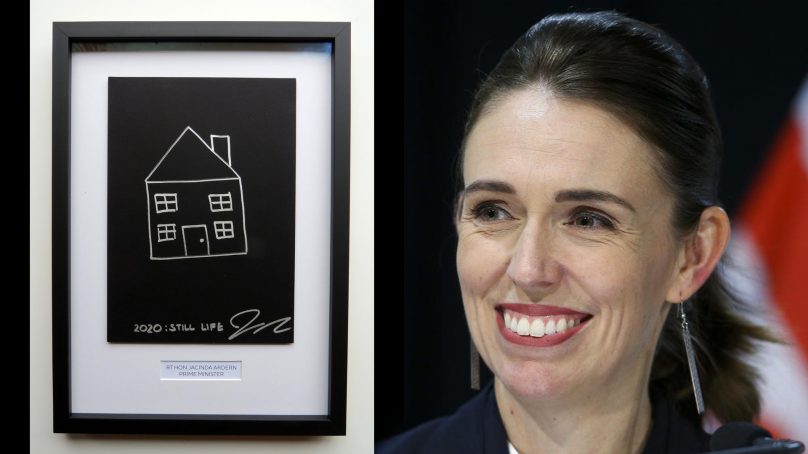 Last updated:
Learn our story about how we are independent and what is needed to keep thisquality operating. You might be able to donate to us so we can inform and share what matters faster.
Learn More
An artwork that Prime Minister Jacinda Ardern signed will be raising funds for New Zealand's Breast Cancer Foundation.
It was listed on Trade Me by the Waikato Pink Ribbon Breakfast Team as part of efforts to raise funds.
Drawing on the painting shows a house with the words "2020: Still life" — it represents what 2020 taught New Zealanders about the team of five million who pulled together during the Pandemic by staying home, staying safe and being kind.
The painting is simple, hand-drawn by PM Ardern in white on black paper and signed; it has a generous meaning which Illustrates the way people across the country did their part to keep communities safe.
"This piece of art is a historic recognition of Aotearoa's collective efforts to save lives and marks one of the most momentous times in history for our country and the world," the Trade Me auction reads.
It is professionally framed and floated inside a black frame with wood grain sides. The total size of the artwork is 325mm wide and 455mm high.
Chair Jacqui Church says she and a team of 15 other women from Port Waikato have been hosting Pink Ribbon Breakfasts every year since 2013.
So far, over the years, they have raised more than $32,000 for the Breast Cancer Foundation. Hopes are high to raise even more with the PM's drawing and signature.
 "We're honoured by this gift we've been given, so we're doing our best to get top dollar for it to help Breast Cancer Foundation NZ. I've seen another of Jacinda's drawings went for more than $18,000, and I can only dream we could reach that amount," Jacqui said.
"I think this drawing is particularly special because of what 2020 taught us about community and the link this has with the importance of Pink Ribbon Breakfast. Breast cancer touches many families in Port Waikato. "
"Hosting a Pink Ribbon Breakfast is our way of acknowledging these families and giving them our arohanui. It's also really important to make our community stronger by raising awareness and educating women about breast health. This is a way of showing how we're all in the same waka together."
Image: SUPPLIED/Gettyimages [Jacinda Ardern]
Have time to spare? If you liked this publication, please learn our story to support thisquality. Fund trustworthy news coming from official Government newswires and local voices inside communities.
Contribute