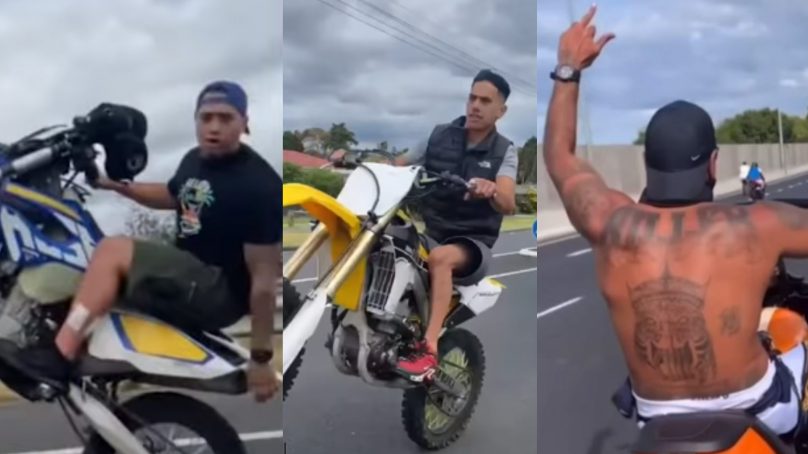 Last updated:
We are independent and we need help to keep the industry thriving. News is important during the COVID-19 Pandemic; it can be informative especially during the toughest times of all. For us, there is a need to speed up so we can inform and share what matters faster. You can help with the progress by donating to us.
Make a donation
An investigation that has continued is looking to identify dirt bikers from a mass Waitangi Day ride on Auckland's roads.
Dangerously, motorcyclists were seen weaving through the city's busy traffic pulling wheelies and other sorts of reckless maneuvers.
A Facebook post was made from Counties Manukau Police which asked the public in a video to get in touch if they recognised any of the three males who were caught on camera.
"We need your help to identify some of the males identified in this video through footage captured of the ride," Counties Manukau Police said in the post.
Do you know more? Send Police, Crime and EMS information, footage or photos to [email protected]
Source: CC/ Auckland District Police
Constable Jeremy Popping described the riders of interest in the video.
The first rider male has bandaged on his left leg and appears to have a full sleeve tattoo on his left arm.
A second has a black North Face vest jacket on with distinctive red Nike shoes.
Lastly, a third rider has distinctive Killer Beez tattoos on his back.
"If you can help us identify these guys in the pictures I've just shown you [call 105 and quote the file number]," said Constable Jeremy Popping.
If anyone has information, they are asked to contact Police on 105 referencing Operation Whakatiwai. You can quote file number 210323/9692, or you can also contact Crimestoppers anonymously on 0800 555 111.
Image: SUPPLIED/Auckland District Police
If you liked this publication, please consider donating to support thisquality being independent. Protect trustworthy news from official Government newswires and voices inside local communities. Invest in a range of interesting fields of storyful perspectives that matter.
Donate here