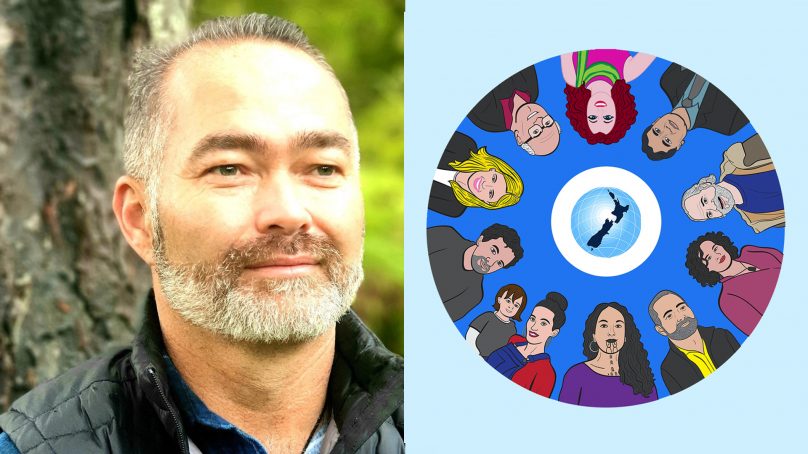 Last updated:
Learn our story about how we are independent and what is needed to keep thisquality operating. You might be able to donate to us so we can inform and share what matters faster.
Learn More
An app commonly promoted by Conspiracy Theorist Billy Te Kahika is posing a serious risk to new users spiralling down rabbit holes when they sign up.
Freedom Village permits users to spread misinformation and disinformation mostly about the Coronavirus Pandemic and how evil Bill Gates is supposed to be. What lies behind it are grifters that are looking to cause therapeutic harm to innocent people and families into believing mistruths.
From anti-5G to QAnon conspiracies, the app has it all in store for many that are convinced to believe false realities compared to the real world.
Google's Play Store shows a rating of two and a half stars while the Apple App Store has been accompanied with 4.5 stars. On Apple's Store, the developer name is biofield Medical SL whilst Google's is Christchurch-based Firehorse Productions Ltd.
It claims to be a social community to 'Unite Freedom Fighters' from around the world but precisely, it does the opposite, formulating conspiracy that spreads fear like wildfire.
Background history is hugely shady while there's little detail about how operations go about.
Back when Mr Kahika abandoned his 'bogus freedom movement' to become a fraudulent activist due to losing the 2020 General Election, it was found that asking his followers for money just wasn't enough.
The Electoral Commission and Police are both actively investigating him over fraudulent money dealings after he'd spent too much by going over the $30k cap breaking the rules.
In regards to the Police involved, an independent investigation done by thisquality revealed over $200,000 was given to him by an investor.
Misinformation being spread has, fortunately, put him into a position of no return. Tech platforms such as Facebook is finally cracking down to remove his closeness.
The alternative was formed by Tiamara Williams and her spouse, behind Freedom Village.
Launched at the end of December 2020, Ms Williams promoted it on a Facebook video.
The app was later promoted by Mr Kahika to over 22k followers as of recent on his Facebook page numerous times in an attempt to escape removal or suspension.
In one video post on the app, Ms Williams tells users to buy an EMF (Electro Magnetic Field) protector plug and 5g protectors to prevent the waves from interfering so anyone who has one could meditate and feel alive in peace without stress. They do absolutely nothing.
"I personally have had the most amazing sleep since I have had one of these. They reverse the electromagnetic field, which does damage to ourselves because it is so close to what our cells are."
"There are all of these waves in the air and are not doing us any good because they cause inflammation in the body."
"We've got our 5g protectors as well which, I take mine absolutely everywhere, especially if I am going to go out into the public."
Inside the Terms of Service, it reads that the user must not post the following: "fraudulent, inaccurate or misleading, or is otherwise objectionable content of any kind" — Claims made by a user on the app promotes conspiracies about the September 11 attacks by the Wahhabi terrorist group Al-Qaeda on the morning of Tuesday, September 11, 2001, in the United States.
Another post shows an image claiming light poles that have 5g routers installed on them, including towers, are 'silent weapons for quiet wars', including the known conspiracy about chemical trails being another type of 'silent weapon' to exterminate humans.
One other post says the Government is using the media to create a world of 'propaganda' due to the Coronavirus Pandemic; however, the media has a role in informing its citizens that something is happening and is real to protect and save lives.
More posts by many hundreds of active users on the app seem to post misinformation surrounding COVID-19 and Vaccines, including PCR tests, making inaccurate claims that neither is effective in preventing outbreaks or fighting back against the virus.
Source: CC/ Unite Against COVID-19
thisquality got in touch with a media contact from the Government's Unite Against COVID-19 Group, including other departments, to raise concerns about the app that is being used to lure genuine people down endless rabbit holes.
A comment from a spokesperson says society needs to build awareness about untruths and strengthen resilience to it.
"Everyone has a responsibility to prevent mis/disinformation, including Government agencies, academia and the media," they'd said to thisquality.
"Any communications about the Vaccine should come from reliable sources such as the Unite Against COVID-19 website and the Ministry of Health."
Other contacted departments suggested reporting all misinformation posted online to CERT NZ as they manage any predicaments like this one.
Suppose people are concerned about Vaccines and do have questions about them. In that case, they are recommended to talk to their local GP and not use 'research' from unreliable and unofficial sources or apps, which could potentially cause more harm than good.
Tiamara Williams was contacted for comment but did not answer her phone. A Facebook media spokesperson was contacted by thisquality but did not immediately respond.
Image: SUPPLIED
Have time to spare? If you liked this publication, please learn our story to support thisquality. Fund trustworthy news coming from official Government newswires and local voices inside communities.
Contribute