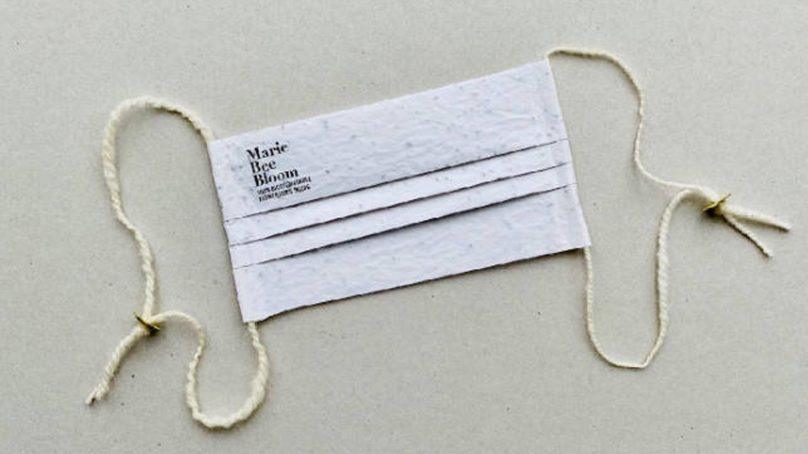 Last updated:
We are independent and we need help to keep the industry thriving. News is important during the COVID-19 Pandemic; it can be informative especially during the toughest times of all. For us, there is a need to speed up so we can inform and share what matters faster. You can help with the progress by donating to us.
Make a donation
A brand new idea has hit the rails following the mass manifestation of blue medical masks being applied and used worldwide. Going biodegradable could be the future and for a good cause.
Innovative ideas like what Marianne de Groot-Pons has come up with is to make a mask that, when it biodegrades, a flower grows after burial.
Ms Groot-Pons is a graphic designer living and working in Utrecht, the Netherlands. For years she has been working on using many resources from nature to make drawings on paper, and lately, giving back to mother nature has been something on her mind.
"For weeks, I fell on blue disposable masks, thrown on the streets and sidewalks, so I woke up one morning with the idea of ​​a biodegradable face mask with flower seeds on it," she said.
The biodegradable face mask can protect the same as a homemade fabric type. It is made out of rice paper and contains flower seeds that are visible, and attached using a special glue that is made from water and potato starch.
Soft cords made out of sheep wool are used for the loops where they go around the ear. The logo on the mask is even made from sustainable ink.
The mask once used needs to be buried in the garden or in a large pot; even throwing them in the rubbish or in a landfill will allow for decomposition on their own. The seed will likely not turn into flowers due to transportation.
It is not recommended to throw away medical or any type of face mask in the rubbish, dispose of them in a way that will not pass on germs.
* Place any used masks or gloves in rubbish bins that are for safe disposal at landfills.
* Do not dispose of any type of PPE gear in household or public recycling bins.
Image: SUPPLIED
If you liked this publication, please consider donating to support thisquality being independent. Protect trustworthy news from official Government newswires and voices inside local communities. Invest in a range of interesting fields of storyful perspectives that matter.
Donate here