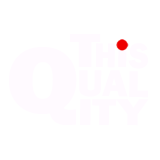 A statement from CEO Sam Hudson
Dear reader, this is a statement from the CEO of thisquality, Sam Hudson.
"thisquality was censored after recent news following American political reporting in terms of the United States' current President, Donald J. Trump.
We posted two videos to YouTube, one being the President who addressed protestors telling them to go home after storming the Capitol in Washington, D.C, on January 6 - the video was later removed for breaking Terms and Policies.
A second video was removed where Instagram allegedly put Donald J, Trump under their election tags as the 'Projected Winner' of the U.S. Elections for a short period. thisquality addressed in a linked publication inside of the video description that it could have been a typo mistake in the backend of Instagram.
These two videos were not biased and did not promote any unrest within the American or New Zealand political system.
If any further censoring occurs on any @thisquality owned enterprises, platforms, domains, IP's or assests; we will not be taking it lightly. Here is our outlay of any outcome that may arise in future for us to resolve within New Zealand's legal system, copyright laws, current events and redistribution of news under the Journalistic Code of Ethics rights in order to obtain content security:
We will take any platform to the highest levels of courts within New Zealand law(s) to protect our news content for our audiences who like to get the scoop of what's happening in the now.
We will associate with our current lawyers who are at a Government level to ensure the integrity of current events news and regulators in New Zealand and around the world to report factual content and be honest.
We will be securing content and publications for the future regardless of 'violations' that privately-owned companies will give to us for posting current event news.
Further lectures will be executed if the content is erased under the copyright of 'thisquality Ltd' owned assets.
We will be protecting the company assets for the future on any type of platform at a Government level to ensure content is strictly and legally producing news that is of interest to local and global readers or viewers.
We own the domain and IP of all product(s) to give news directly to our audience without troubles and opinion or biasness; following New Zealand laws to distribute current affairs without censorship.
thisquality is formally warning all social media platforms, that-is, Facebook, Instagram, Twitter and YouTube. We will not play lightly in the legal system if another video, content or current affairs piece of content is taken down following New Zealand laws protecting news of interest from around New Zealand and around the globe."
Signed by: Sam Hudson - CEO of thisquality