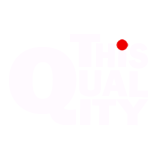 Dear reader, this is a statement from the CEO of thisquality, Sam Hudson.
"In light of recent problems thisquality has faced regarding company interviews of local citizens that have the opportunities to express their voice to a large audience; our company will no longer contact anyone for an interview unless they contact us to speak on our platform. *Some exceptions may apply.
If someone wishes to be interviewed or speak on our platform, they will now need to use our email line that was set up since the company was founded. The email line allows for one to contact us and inquire about a potential story or give us news to report on. The email is: [email protected]
thisquality believes in transparency when I acted this, as the CEO, asking a member of the public if they would like to be interviewed and speak their voice. I was called a 'freemason' and told that I work with TVNZ (Television New Zealand) - this is entirely false.
Our company is independently owned, meaning we have the power to create content when we want, how we want and without limitations of any potential contracts or third-parties.
I founded thisquality to give all perspectives a voice, and sometimes that can change when new developments arise in the future. We ask civil questions to get to know someone and their motives. That content stays online forever regardless of any circumstances that arise in future because it matters historically.
We stand by allowing anyone to speak their voice, and that gives no exception to treat someone with disrespect from a proposed offer."
Signed by: Sam Hudson - CEO of thisquality