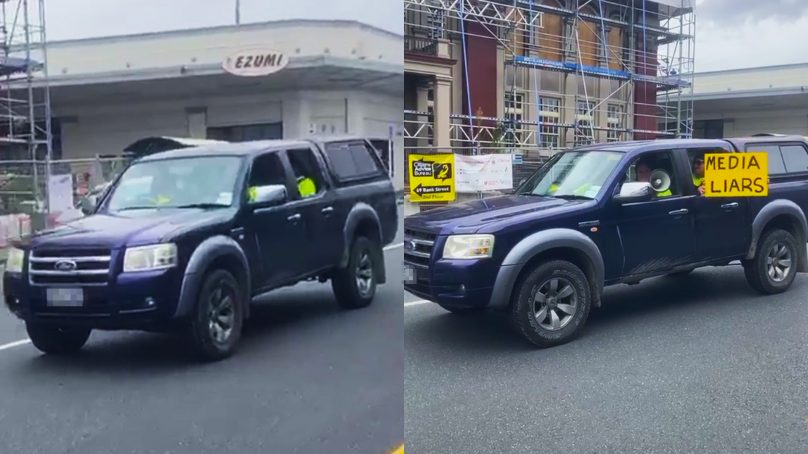 Last updated:
We are independent and we need help to keep the industry thriving. News is important during the COVID-19 Pandemic; it can be informative especially during the toughest times of all. For us, there is a need to speed up so we can inform and share what matters faster. You can help with the progress by donating to us.
Make a donation
A group of Conspiracy Theorists stopped in the middle of the road outside Whangārei Inland Revenue (IRD) to spread misinformation about COVID-19.
Captured from a live stream on Conspiracy Theorist Billy Te Kahikas' Facebook page shows a blue Ute park up in the middle of the road on Bank Street.
Encouragement from Mr Kahika showed there was no consideration for traffic coming behind the vehicle except laughter. It was a dangerous situation.
Source: CC/ SUPPLIED-Facebook
Australian woman Lucinda Baulch, the front passenger holding a megaphone, was blasting a recorded voice by Conspiracy Theorist Karen Brewer who is known to bang pots and pans together in protest against lockdowns.
The recorded audio spread misinformation that there is a bogus 'emergency' mentioning the Government is corrupt for locking down. However, lockdowns save lives over the virus when it spreads.
Contact Tracing has been proven to work, thisquality reports.
Source: CC/ SUPPLIED-Facebook
The back seat rider JJ King was known to call CEO Sam Hudson a 'freemason' when a request was made to be interviewed.
Ms Baulch was purported to fly back to Australia following a long 28-day stay in managed isolation, for refusing to take a COVID-19 test.
Image: SUPPLIED
If you liked this publication, please consider donating to support thisquality being independent. Protect trustworthy news from official Government newswires and voices inside local communities. Invest in a range of interesting fields of storyful perspectives that matter.
Donate here