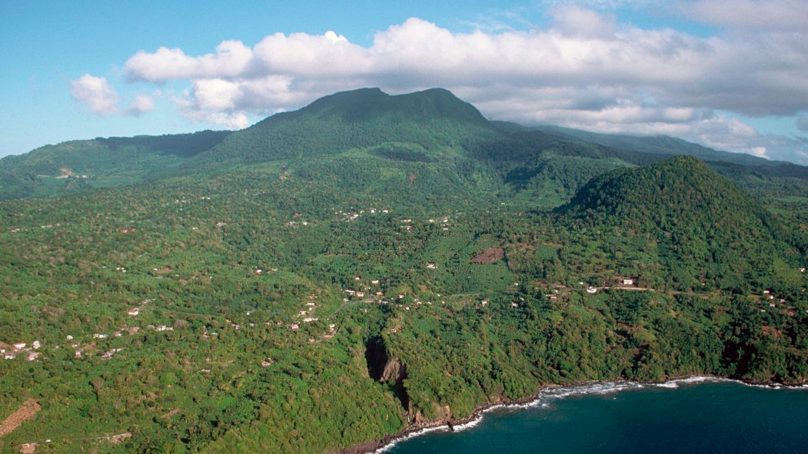 Last updated:
We are independent and we need help to keep the industry thriving. News is important during the COVID-19 Pandemic; it can be informative especially during the toughest times of all. For us, there is a need to speed up so we can inform and share what matters faster. You can help with the progress by donating to us.
Make a donation
Officials initiated evacuation alerts on Friday following fears that a volcanic eruption could occur on the Caribbean Island of St. Vincent.
People who live near the La Soufriere volcano were advised to evacuate after abrupt glowing could be seen on Thursday night, following days of odd seismic activity in the region.
The volcano is situated on the northern side of St. Vincent.
Source: CC/ UWI Seismic Research Centre
UWI Seismic Research Centre revealed a video on a Facebook post showing hot steam pouring out of the top of the volcano indicating it is ramping up in activity.
It is not immediately known how many people have been evacuated or how many relief camps were set up for those if an eruption were to occur.
Roughly 100,000 people live in the country of 32 islands. However, most are not populated with the broader population.
The Prime Minister of St. Vincent and the Grenadines offered refugees in the 'last moment' scenario if people had nowhere else to go.
During the year 1979, La Soufriere erupted. In 1902 another eruption occurred, which killed around 1,600 people.
8th April, 2021
LA SOUFRIÈRE BULLETIN #49 APRIL 08, 2021 12:00 PM

1. The steaming/smoking at the La Soufriere Volcano has increased over the last few hours.

2. The alert level remains at Orange. @volcanodiscover @USGSVolcanoes #volcano pic.twitter.com/UpygxRfzS2

— kenville Horne (@kenvilleHorne) April 8, 2021
Image: Gettyimages
If you liked this publication, please consider donating to support thisquality being independent. Protect trustworthy news from official Government newswires and voices inside local communities. Invest in a range of interesting fields of storyful perspectives that matter.
Donate here