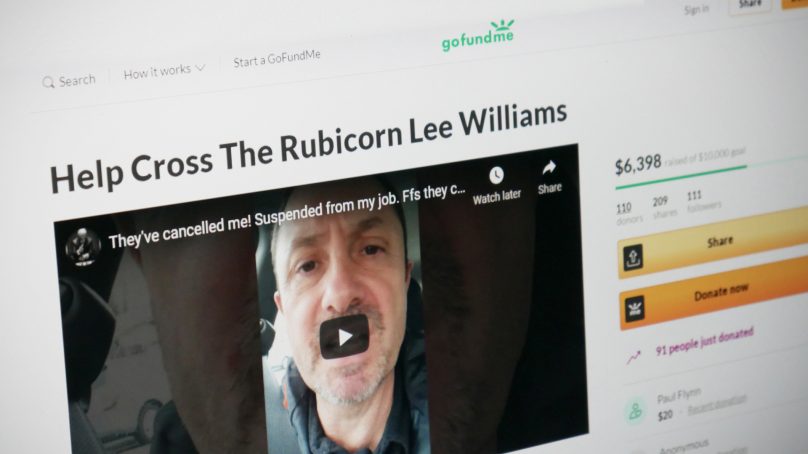 Last updated:
Learn our story about how we are independent and what is needed to keep thisquality operating. You might be able to donate to us so we can inform and share what matters faster.
Learn More
GoFundMe and Givealittle have removed campaigns dedicated to raising money for racist Lee Williams.
Around $6,400 ($6,398) was raised before a campaign created by Michael Allen advocating funds to Mr Williams on GoFundMe was abruptly removed after a number of complaints were sent in.
Givealittle which is a New Zealand-based fundraising platform also removed a campaign created to raise funds for him.
Mr Williams released a video to his YouTube channel on Tuesday afternoon saying that the GoFundMe campaign made by Mike Allen was stopped — further mentioning in the title that he is 'devastated' that around $7,000 vanished in seconds.
"Bad news I'm afraid. I've just had a phone call from Mike Allen who set up a GoFundMe site for me to raise some cash because I am being persecuted by the Government of New Zealand and the Māori Party and full-on left-wing activists who are the street-foot soldiers for [Prime Minister] Jacinda Ardern," he said.
"It had seven thousand dollars in that account, and GoFundMe has gone and cancelled it because I broke the conditions."
"What an absolute disgrace." — adding that the platform will be refunding everyone who donated to the campaign within thirty days time.
Mr Williams is known as a white supremacist who posts content online spreading made-up realities about the Christchurch March 15 terror attacks in 2019 and even anti-Chinese, Māori and immigrant observations.
A Change org petition was set up to get him dismissed from Synlait, which employs him, receiving over seven thousand signatures after he'd posted content online mocking Māori people, culture, heritage and history; including the Māori Party Co-leader Rawiri Waititi.
Because of the petition and a large amount of outrage shared to Synlait's social media page, they later suspended him for around three weeks to investigate his online actions.
The call has been strong to cancel him for his actions; while accusations continue claiming the Māori Party is behind it — they are not.
GoFundMe and Givealittle did not immediately respond for comment upon deadline.
Image: SUPPLIED/thisquality
Have time to spare? If you liked this publication, please learn our story to support thisquality. Fund trustworthy news coming from official Government newswires and local voices inside communities.
Contribute