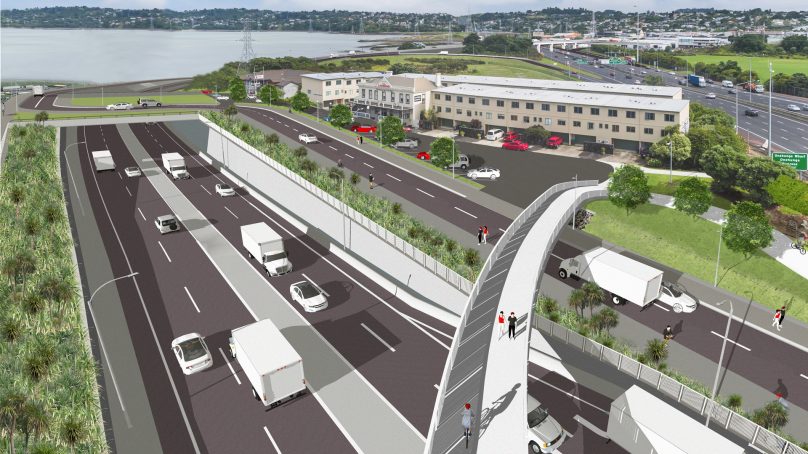 Last updated:
We are independent and we need help to keep the industry thriving. News is important during the COVID-19 Pandemic; it can be informative especially during the toughest times of all. For us, there is a need to speed up so we can inform and share what matters faster. You can help with the progress by donating to us.
Make a donation
The High Court in Auckland has dismissed a decision to two appeals against route designations and resource consents for the East-West Link transport project.
Appeals were heard during June by Forest and Bird and Ngāti Whātua Ōrākei against consents and designations.
From an independent Board, they were heard of the inquiry in January 2018, where on Friday, Waka Kotahi heard that both appeals were dismissed.
"This is a great outcome for Waka Kotahi, the project and the BOI process," says Waka Kotahi General Manager Transport Services, Brett Gliddon.
If consents go through with the project, a new four-lane road between the Neilson Street interchange at State Highway 20 and the Mt Wellington interchange on State Highway 1 will connect to local roads in Onehunga and Penrose.
New work will be done on cycleways on the foreshore, including introducing better-managed headlands and wetlands.
The project is being reviewed to evaluate whether it aligns with the new priorities, including giving a strategic direction that the Government Policy Statement will set out on land transport following significant environmental effects on a balance.
The existing designation granted in 2018 will remain in place until the re-evaluation gives an outcome to include the next steps for continuation and confirmation.
"It is important to note that the transport challenges for the area remain, and the re-evaluation aims to prioritise and address these challenges, working in collaboration with our project partners," said Mr Brett Gliddon.
"Once there is a clearer path for the project, Waka Kotahi will work with key project stakeholders and the community to agree on the next steps for the project."
Image: WakaKotahi
If you liked this publication, please consider donating to support thisquality being independent. Protect trustworthy news from official Government newswires and voices inside local communities. Invest in a range of interesting fields of storyful perspectives that matter.
Donate here