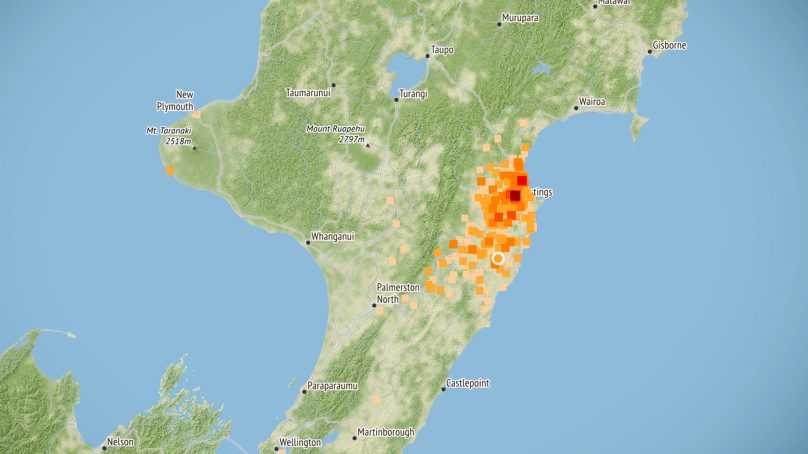 Last updated:
Learn our story about how we are independent and what is needed to keep thisquality operating. You might be able to donate to us so we can inform and share what matters faster.
Learn More
GeoNet reports a magnitude 4.2 earthquake that had abruptly shaken the Eastern part of the North Island and surrounding areas on Sunday evening at 5.55 pm.
The quake occurred at a depth of 31 km and struck about 10 km east of Waipukurau.
Many had reported feeling it mostly in the Napier area, being a 'light' shake. 
Out of 1,744 reports submitted to GeoNet: 78 said it was moderate while 647 declared it light — 1,012 weak reports were submitted.
Two reports indicated the quake was  'extreme or severe' while six were strong.
M4.3 quake causing light shaking near Waipukurau https://t.co/8CAjvKOL5h

— GeoNet (@geonet) May 30, 2021
People took to social media to express their experience.
One user on Twitter wrote that it was a 'bit of a wobble' with emotion.
"Bit of a wobble there!!," they wrote.
Bit of a wobble there!! #eqnz

— NinjaKitty 🇯🇵🇳🇿💮 (@JackyNinjakitty) May 30, 2021
A response was left to another user who felt the quake saying that they could hear it in Napier.
"Heard it more than felt it in Napier," they wrote.
heard it more than felt it in Napier

— AllenNZ (@JAllennz) May 30, 2021
Have time to spare? If you liked this publication, please learn our story to support thisquality. Fund trustworthy news coming from official Government newswires and local voices inside communities.
Contribute