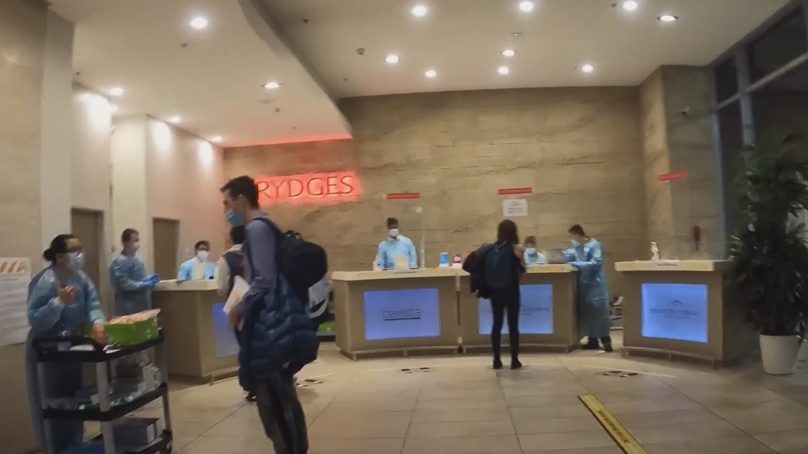 Last updated:
We are independent and we need help to keep the industry thriving. News is important during the COVID-19 Pandemic; it can be informative especially during the toughest times of all. For us, there is a need to speed up so we can inform and share what matters faster. You can help with the progress by donating to us.
Make a donation
Vlogger Reddot Diaries showed his entrance into New Zealand during the COVID-19 Pandemic in a short YouTube video.
The video starts at Auckland Airport, very empty during the night. Only one flight was in from Singapore.
One section of the building, which used to be the main shopping area where passengers would go to spend money after arriving in the country, is now blocked off with high white walls.
Passengers are given a card within immigrations that tells them about symptoms in a list to inform staff if they feel indications of the virus. Baggage is freely able to be picked up without much direction; later, they are to move toward customs clearance.
Source: CC/ Reddot Diaries
After customs are cleared of any suspicious items, passengers are directed to go to a quarantine officer. The quarantine officer will determine which managed the isolation facility that the passenger stays at for a mandatory 14 days before being allowed to leave.
At the exit, Police monitor and secure the outside area where a bus or a van is organised by the managed isolation facility, waiting for passengers to board so they can be taken to their pre-determined hotel.
Source: CC/ Reddot Diaries
Before departing from the bus (or van) after arrival, passengers are told the next steps by a coordinator.
The direction of the mandatory 14 days stay and COVID-19 testing is mentioned.
The hotel foyer is where baggage from the bus (or van) is stored. Inside is maximum social distancing where Reddot says it was a 'bit intimidating' to see soldiers in uniforms.
Source: CC/ Reddot Diaries
Hotel staff ask for a passport to be shown and any dietary requirements for meals.
Before going to the hotel room, passengers are invited to take a paper bag full of food and snacks.
Finally, the last step is going to the room as given to stay in for the next 14 days.
Image: SUPPLIED
If you liked this publication, please consider donating to support thisquality being independent. Protect trustworthy news from official Government newswires and voices inside local communities. Invest in a range of interesting fields of storyful perspectives that matter.
Donate here